Gifts for dad in Ukraine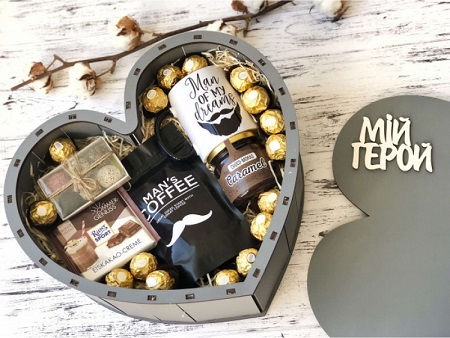 In our culture, a father is a man's standard, harmoniously combining wisdom and strength, justice, and exactingness. For any family, dad is a central figure: he is a support, protector, and breadwinner. Choosing an appropriate gift for dad in Ukraine is always a difficult task.
We, the team of the Gifts for Ukraine, decided to help you in this difficult matter. We have carefully selected the best things to buy your dad using our extensive experience. Check out our selection, choose and order a gift for your beloved dad, and we will be happy and just in time to provide fast and high-quality delivery service to the address.
How to choose presents for dad?
Below we give several recommendations on how to choose the right gifts for dad, what principles to follow in this matter.
The father, first of all, is a man, therefore the general range of men's accessories is always appropriate and in demand. Shoeshine sets, shaving accessories, stylish leather belts, wallets, Swiss knives, and other purely male gifts for dad in Ukraine are always needed and in demand.
In addition to general male habits and needs, analyze the special habits, hobbies, and preferences of the dad. Does he smoke or is a connoisseur of noble alcoholic beverages, tea, and coffee, does he have a suburban area, does he like hiking in nature? Is he fond of hunting or fishing, or maybe he is interested in history and would like to have a real medieval sword, a model of a Mauser pistol, or a small cannon in his collection? Knowing about your father's hobbies and interests opens up a huge array of interesting, relevant, and useful gifts. Many of these gift ideas are presented in this section, study it carefully.
The best cool gift satisfies the wish of the hero of the occasion. If you know what the father wants, it's 100% hitting the target. If you don't know and there is still time before the solemn event, find out.
Remember the symbolic language of gifts. If you want to express something, but you hesitate to say, pick up a gift that will say it for you. For this, our assortment includes a large number of ideal gift boxes. Dad will appreciate an interesting and cute gift made from the bottom of his heart.
Buy a gift for dad in the online store
We hope you appreciate our selection of appropriate gifts for your father. Please note that prices for all of these items are 100% current, as is their availability. We perfectly understand the importance of these factors when choosing a gift in the face of time pressure and sometimes limited funds.

Have you already decided on a gift and decided to give it exactly, and you are informed that the product is out of stock or its price is much higher than previously announced? We don't have such situations! Choose and order, and then send gift sets for dad in Ukraine, and we will deliver it to Kharkiv, Dnipro, Odessa, Lviv, and other Ukrainian cities. If time is already running out, use extra urgent delivery in Kyiv on the day of order. Give joy to your loved ones with gifts from Gifts for Ukraine.

<![if IE]> <![endif]>