Delicious meat delicacies
Sausage is a meat product made from minced meat in the natural or artificial gut. What types of sausages are in the market? What is the nutritional value of sausage? How to choose a quality sausage? How do you recognize poor quality? We will talk about this in our article.
Types of Sausages and Production Methods
A sausage consists of minced or sliced ​​meat mixed with spices, bread crumbs, and flavorings. Sometimes leeks and apples are added to the mass. For making sausages, pork, beef or veal are most often used.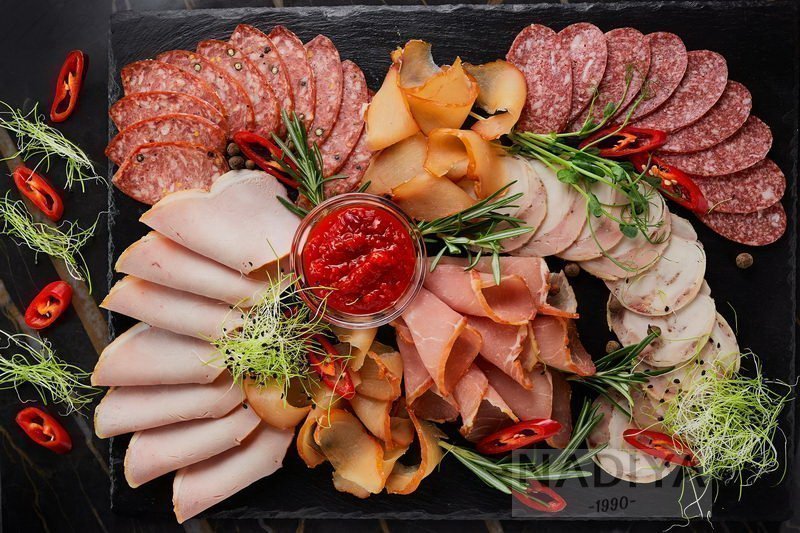 The sausage casing is filled with meat mass. It can be natural (from cleansed intestines) or from collagen, cellulose, or plastic, which is now increasingly used in sausage production. Sausages can also be uncoated, for example, in cans or glass jars.
There are a few types of sausages:
Boiled sausages are made from fresh minced meat. You can keep them in the refrigerator for some time. But you should eat such sausages immediately after cooking.
Cooked and smoked sausages are first boiled and then smoked or cooked in smoke. You can eat them hot or cold. But it is better when the sausage is cooled. Then it fully reveals its taste.
Fresh, smoked sausages are smoked and dried and called dry-cured. We recommend eating them cold.
Dried sausage is produced by fermentation and drying. Some sausages are also smoked before drying. They do not need to be heated before use and can be stored for a long period of time. These sausages often fall into the category of deli meats.
There are also vegetarian sausages on the market based on soy protein, tofu, or legume seeds.
Sausage is a product that is popular all over the world. Every type of sausage has a characteristic of a given region and is made from products available in that area. In Africa, sausages are made from beef mixed with pork and lamb, with the addition of vinegar and coriander. North Chinese sausages are similar to Ukrainian ones. Dried sausages reminiscent of pepperoni are popular in Southwest China.
The category of sausages also includes jamon, prosciutto, bacon, chorizo, ​​and other meat delicacies.
If you want to please your family and friends with delicious sausage products then place an order on the Gifts For Ukraine website. Add cheese, olives, or other goodies to the package. We will deliver your order to any city in Ukraine among which are Odesa, Lviv, Kharkiv, Dnipro, etc.