How to Choose Dishes for a Gift Among a Large Assortment
A set of dishes, bowls, cutlery and glasses, bakeware, pots, and teapots – there are many options, materials, and shapes. How to choose from such a huge assortment? The task becomes more difficult if you need to buy dishes not for yourself, but as a gift. We will help you to plunge into the world of kitchen utensils and accessories. So that you can choose dishes which will become the best gift to family and friends.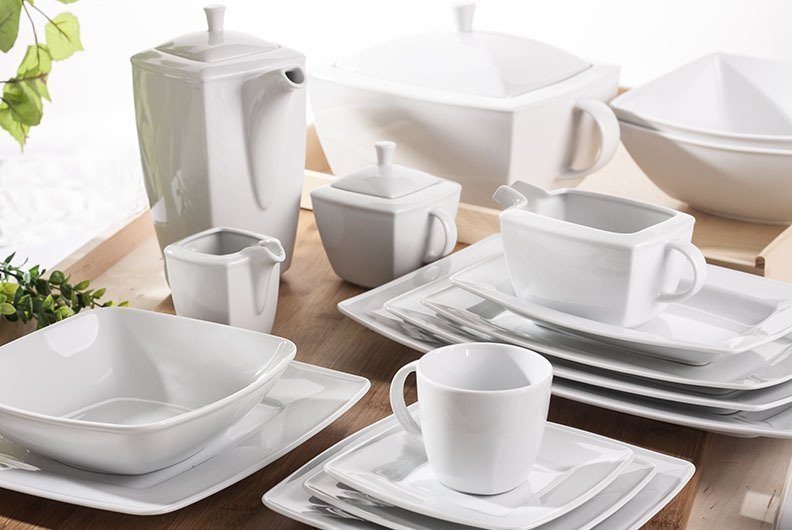 Sets of dishes, plates, and bowls. Each set of dishes consists of all kinds of plates and bowls needed for a table setting or daily meals. All you have to do is figure out how many people will be using the cookware, what style of your kitchen or dining room. Usually, buying the whole set is more profitable than buying some dishes one by one. However, if sets do not meet the needs, for example, if you do not use one type of tableware, then you can order the goods separately. You can also buy different types of tableware and combine them into a set according to your taste and needs.
Cutlery. You can buy a few types of cutlery separately. But it is usually more convenient to choose the whole set. The most commonly sold 24-piece set contains forks, knives, tablespoons, and teaspoons for six people. Each family member must have at least two appliances of each type. In families with children, it is worth increasing this number. By the way, in the Giftsforukraine.com catalog, there are also sets of cutlery for children. This is a great gift option for a New Year or St. Nicholas Day.
Glassware. Classic glasses for water, for various alcoholic beverages such as wine, whiskey, cocktails, and vodka should be in every kitchen. You can order glassware in a set for a gift. It will be used for water, juices, fruit drinks.
Mugs and cups. A mug is more suitable than a cup without a saucer for drinking coffee and tea. The cup is smaller, usually complete with a saucer. Cups look more intelligent but mugs are better for everyday use. The set of cups will be a good present for people who like to drink coffee such as espresso.
Dishes for cooking. The choice is unlimited. Pots, pans, baking dishes, saucepans, etc. Each type is also divided according to the material of manufacture, size, the possibility of use in the oven or on an induction hob.
This is not a complete list of tableware on the market. In our catalogs, we have prepared the best options for a gift. We have only high-quality, branded tableware, the price of which is in a wide range. Order dishes, and we will deliver gifts to Odesa, Lviv, Kharkiv, Dnipro, and other cities in Ukraine.